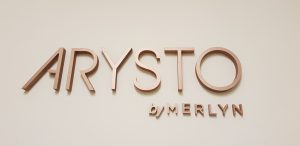 We here at Ormishers Ltd are delighted to announce that we have a new Merlyn display open for the public. This display really showcases the Merlyn Arysto's wide range and the different styles and fittings that are available. This display includes the Arysto Six in Sliding Door with Side Panel, a Bifold Door and Offset Quadrant. It also includes the Truestone and Level 25 Trays.
In addition to this we have included a selection of Aqualla Showers and some eye catching Tiles which we really feel complement the Arysto range. Should you feel that you would like to see something different, we also have a very wide selection of shower options available in our large showroom for you to browse and a selection of catalogues for you to take home should you desire.
We welcome all to come join us here at Ormishers where we aim to help our customers to achieve their dream Kitchen, Bedroom, Bathroom or Office.